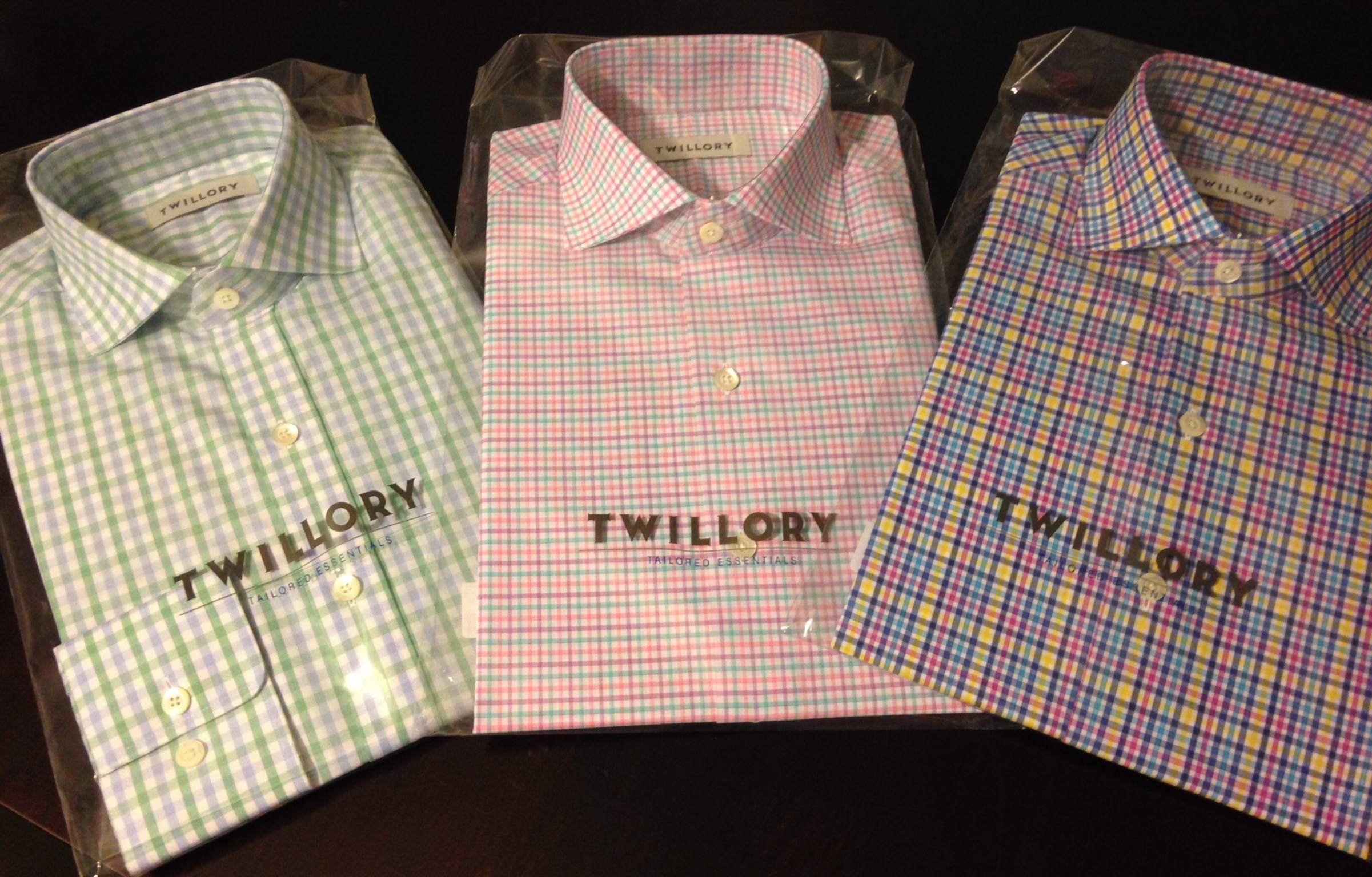 To those who know me, you know my passion for Charles Tyrwhitt men's dress and casual shirts: the varying designs and non-iron shirts have kept me as a fan for the last few years. And I still am, but my eyes have been opened to a new local men's shirt start-up that is trying to stir things up and directly take on the British based Tyrwhitt: Twillory.
Twillory recently launched their brand by giving away really nice collar stays, a little item to help keep your spread and other collars strong and sturdy. Since then, they've launched their selection of dress shirts and I was definitely impressed with the designs.
One of the biggest differences (between Twillory & Charles Tyrwhitt) I noticed was the ordering & delivery process. When ordering online or over the phone from CT, you're ordering from the UK. It often takes ~3 weeks for your shirts to arrive and they charge you $10 for every shipment.
Twillory is based in the US, and to my home in the NY area, I received my shirts in 2 days. Oh, and it's free shipping + free returns. Can't complain there. Additionally, the shirts are delivered beautifully. It just feels like a higher end product.
Shop New Arrivals from Twillory!
One cool thing they are doing is sending everyone a mailer to send back with any shirts that you are no longer wearing them and Twillory will launder them and donate them to those who can't afford nice shirts who may need them for going on interviews.
Today I wore the 2nd of the 3 shirts that I ordered and I've already been receiving compliments on them. The fit is definitely a bit better than my CT shirts. I wear a 15 collar 32 sleeve. CT only carries a 33 sleeve regularly whereas Twillory carries a 32/33 sleeve size. When compared in my closet to my CT shirts, it was significantly shorter, and a better fit on my arm. I ordered the tailored fit as I am relatively thin and don't want much bagginess in my shirts. My extra slim fit (formerly tailored fit) Charles Tyrwhitt shirts are not as fitted as these.
Other components of the Twillory shirts that I like:
The material is finer, which helps with the snugger fit as well.
The buttons are made of Mother of Pearl. It's a small touch that most won't pay attention to, but it's a nice feature.
The second button from the top is in a much better position when leaving the top button unbuttoned. This is something that so many shirt companies get wrong and I really like the positioning of the button here. It really helps the collar pop appropriately and not fly out too wide.
The spread collar is the perfect size and is constructed well.
My concerns are twofold, which after speaking with the people at Twillory, I think both are being addressed:
Non-Iron: As a start up, they currently do not have an inventory of non-iron shirts. Having said that, I've been wearing their shirts for the last 2 days straight and it has held up throughout the day. The shirt hasn't wrinkled at all (beyond the bottom part that is tucked into my pants). That's a big deal for me as previous non non-iron shirts would wrinkle in the first hour or two of wearing. Additionally, they do plan on launching a line of non-iron shirts, I believe starting in the Fall.
Price: Each shirt retails on the site for $79, which is technically less than what most Charles Tyrwhitt shirts retail for, but no one pays the retail price on CT shirts. In order to give a comparable offer to what most consumers are used to seeing, for a limited time,

Twillory is offering a 4 shirts for $199 deal (~$49.75/shirt) as well as a 2 shirts for $115 deal ($57.50/shirt) + the standard free shipping & returns

.
During the checkout process on Twillory.com use coupon code: 4ShirtDeal or 2ShirtDeal for those respective deals. Only one coupon code can be used per purchase, so you can technically use them more than once if you make multiple transactions.Each coupon will expire on October 8th or after 250 uses (each). So hurry if you want to try Twillory out. This is a great way to get some new shirts before Rosh Hashana / Yom Kippur / Sukkot. I'm confident you'll have a good experience.
Disclaimer: Everything that I have stated in this post is my true and honest opinion. Twillory did not ask me to say anything in this post, however, they did give me the coupon codes to spread to my friends and family as a test.
Shop New Arrivals from Twillory!